As you may know, one of the most frequent problems that Shopify e-commerce managers have is the management of discounts and price changes. stopping to search one by one the products you want to discount or change the price of, stopping to enter the quantities one by one…
You can stop all you want (or need to), but time waits for no one. And the orders to be prepared, the customer inquiries or the lunch breaks that you haven't taken for days… pile up.
That's why Shopify apps that automate such tedious processes as discounts and price changes are a huge help for e-commerce managers built on this platform.
Although we are Shopify experts, we don't usually talk about specific apps for Shopify. But today we will make the exception that confirms the custom.
Yes, there are many apps for Shopify, either native to the platform itself or third-party apps that integrate with it. And these apps serve, above all, to do two things: to make the visual part of the web more stylish or to save time.
The app that we have tested in our digital marketing agency, which is why we are talking about it in this post, is an application used to do some time-saving and headache-saving: Planet Dataset.

We discovered it because many of our customers had just that problem: if they have to spend time manually applying discounts or price changes, they can't manage even by hiring more staff.
Now, if you read on, you will see why we strongly recommend it to all our customers and, if you get to the end, you will also get a free gift.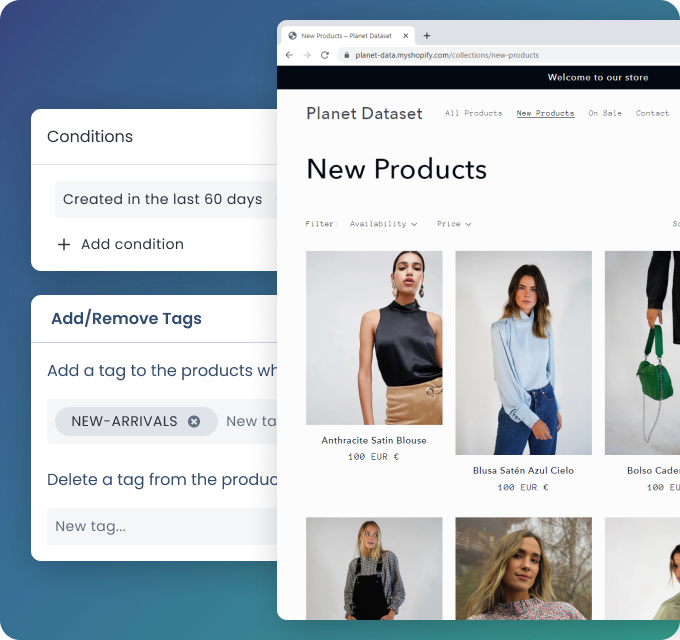 What is the Planet Dataset app?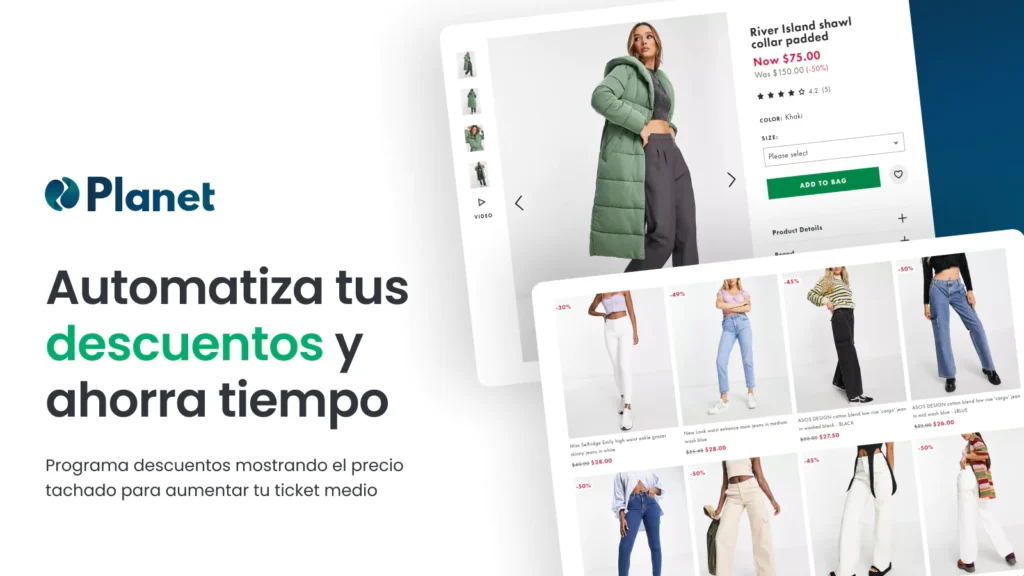 Planet Dataset is an app developed by a Spanish team to automate discounts and price changes in Shopify. With just a few clicks, you'll get rid of that tedious and time-consuming task.
The app is based on a system of rules that you can configure from its own interface.. For example, you can set up a rule to apply a discount of X% to products that have X amount in stock or have not been sold for X days. This is very useful to dispose of stock and prevent it from accumulating.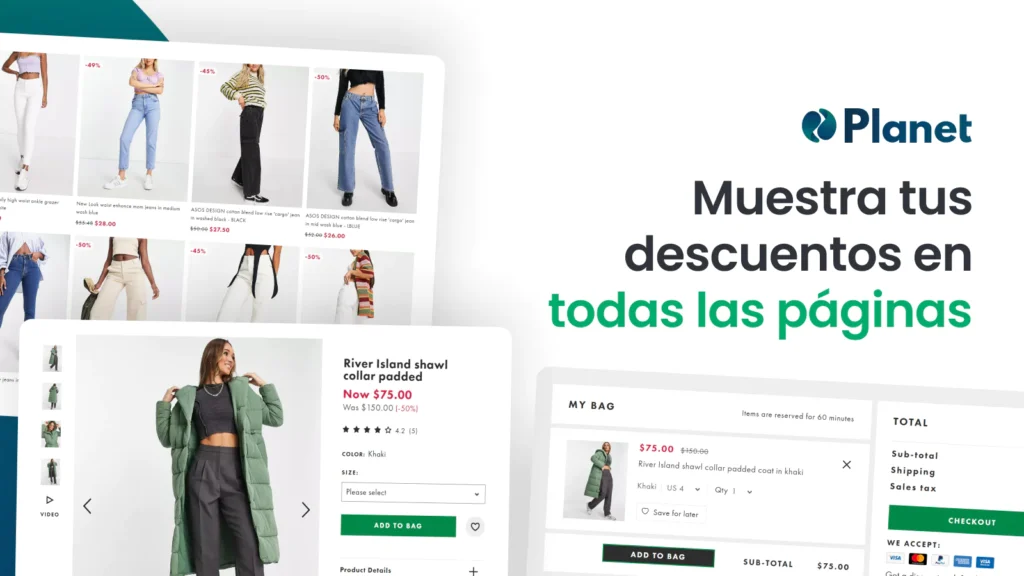 How does Planet Dataset work?
The Planet Dataset interface is synchronized with your Shopify, so, you won't have to do anything within Shopify to apply discounts or change prices.
Step 1: Product selection
Within the application interface, you can choose how to set the rule:
Individual products: if you want to choose single products to apply the discount to or change the price. This will be the most manual thing you have to do with the products.
Advanced filters: you can select products according to their collection, label, brand, condition, cost or stock (the latter is not available in other similar apps).
Entire store: apply the rule of your choice to all products in your e-commerce.
Step 2: Stock configuration
The next step is to set up the discount or price of the products chosen with the rule. Simply choose the discount percentage and on which amount you want to apply it, or select the new price you want to apply to the products in question.
You will see the new final price of the product (discounted or changed) before confirming the rule. This way, you can cancel the rule if the new price does not convince you.
You can also choose to have the percentage added to the current price, in case you want to sell those products temporarily at a higher price. You can even apply discounts per unit or per amount.
Unit discount: "if you buy 3 products, I apply -30%; if you buy 4 products, -40%".
Discount by amount: "if you are going to spend 30 €, I apply -30%; if you are going to spend 40 €, -40%".
Soon (SPOILER), the app will also allow a discount to be applied by customer segment.
Although the latter option is still under developmentit's being spred in the corridors is that you can choose to apply a discount of X% to the person who has had a certain behavior in your online store.If they have bought X times from you, if they have seen X specific products… Something similar to dynamic remarketing in PPC.
Again, it is still being cooked, but it will come.
Step 3: Establish the schedule
Finally, choose the date from which the rule you have selected will be applied. Simply select a start date (day and time).
Once this is done, save the changes so that the rule will be applied starting from the chosen date. If you have chosen an end date, the rule will stop applying when it arrives; otherwise, you can manually stop the discount at any time.
Since a video is worth 410 words, here is a
a short demonstration of how this app works
explained by one of its creators:
What else does Planet Dataset offer?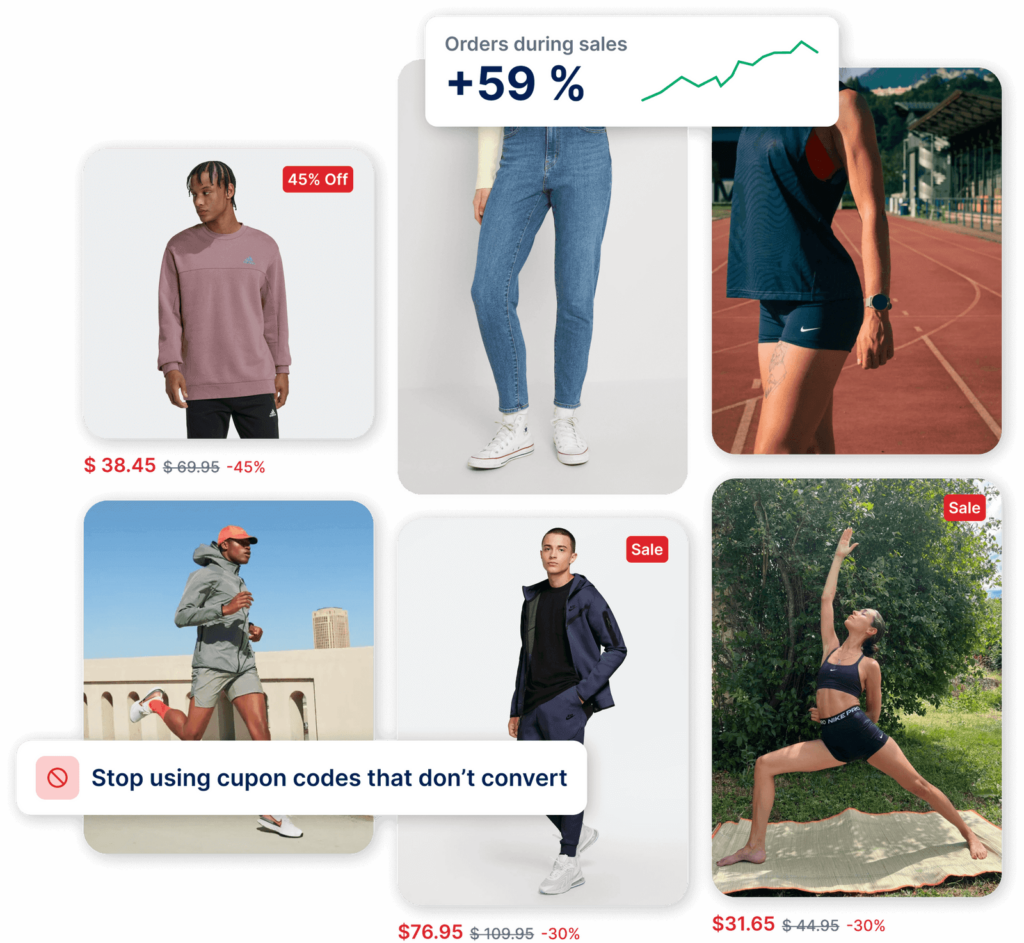 Automated labeling
In addition to saving you time by automating discounts or price changes of your products, this app also tags the products you want to promote during a campaign.
For example, you can set up a rule that tags products that have been created in the last X days. When the product no longer meets this condition, the rule will no longer apply to it, without you having to keep an eye on the calendar to manually remove the discount.
Integrated metrics
Without leaving the Planet Dataset interface, you can consult metrics such as stock, turnover (weeks needed to sell the stock), efficiency (percentage of stock you have already sold), margins, average profits… interesting KPIs to know at a glance the performance of your discount campaign.
What are Planet Dataset's prices?
Forget about having fewer features for paying a lower plan… Planet Dataset plans are based on Shopify's own plans.
This means that you can't choose a different plan to the one on your Shopify, but ALL plans in this app have ALL UNLIMITED FUNCTIONALITIES and 7 days trial.
Is your Shopify plan Plus? You will have Planet Dataset with unlimited features. Is your Shopify plan Basic? You will also have Planet Dataset with unlimited features.
The only difference between the plans is the support: in the first two plans, via chat and email, in the next two, dedicated 24/7 support. But, in any case, you will be talking to people AND in Spanish, not chatbots that give you a predefined answer in English.
WITHOUT Planet Dataset:
❌ Search one by one for the products you want to discount or change price.
❌ Manually add discount or new price.
❌ "Hold on… what day did we have to eliminate the offer?".
❌ Pay for an app with capped features at an exorbitant price.
❌ WASTES TIME
WITH Planet Dataset:
✅ Find products by filtering them by condition, tags or other filters in a few clicks.
✅ Automatically and massively apply changes.
✅ Set the start and end of the discount and move on to the next thing.
✅ Get Planet Dataset and enjoy unlimited features even with the basic plan.
✅ SAVES TIME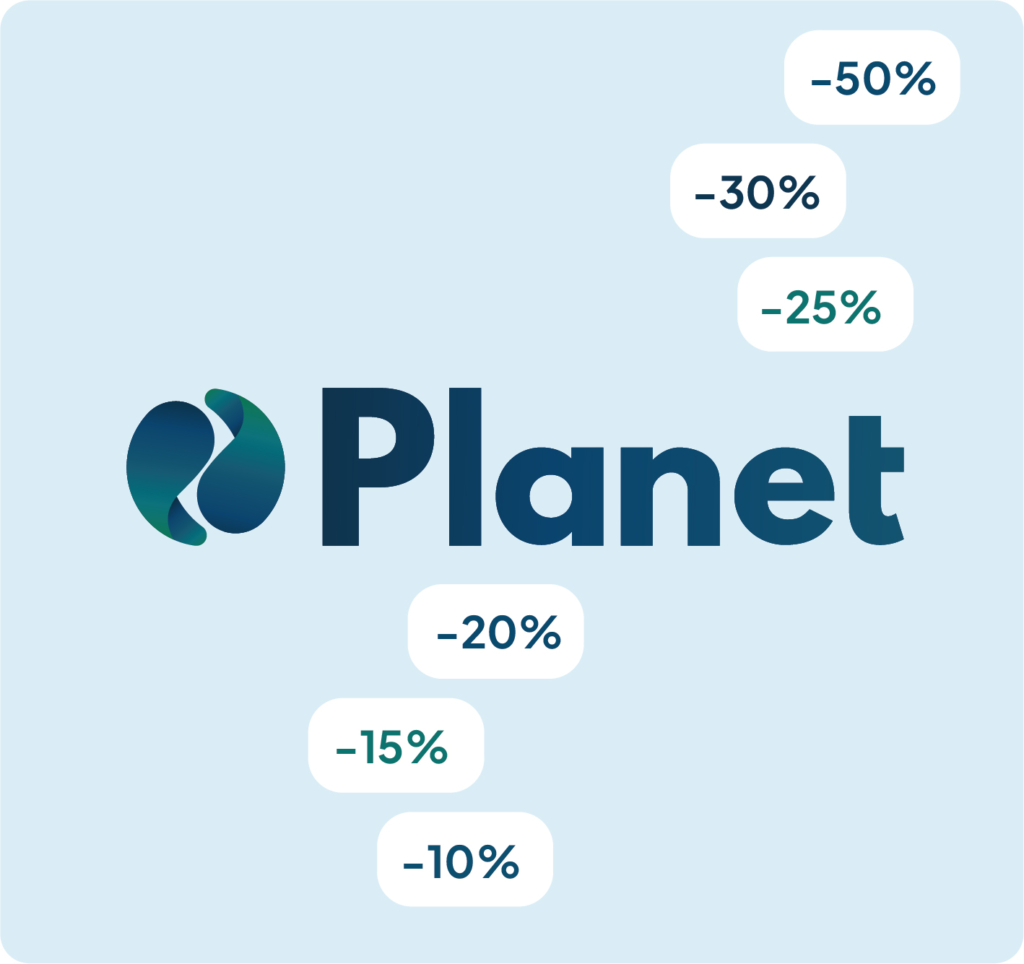 You know that the best things should be left for last…
Well, if you have come this far and have made the wise decision to value your time as an e-commerce manager, you can get Planet Dataset with a 10% discount FOR A LIFETIME.
To do so, and as good click savers that we are, just click on the button below to download the app.
Remember that you have a 7-day trial period. And, if you are not convinced?
You can always continue to accumulate lunch breaks.