What is Storytelling?
Stories and tales have been around forever. It is an art that has always been part of history, as a way of expression and transmission of knowledge.
The magic of storytelling to make connections that last over time.
"Facts tell, but stories sell".
It is a way to share experiences, information and adventures that awaken the imagination.
Stories have always lived in all human beings because without stories there is no past and no future.
In our digital marketing agency Barcelona we know the importance of storytelling is that it creates an environment, where there is a sender and a receiver. Someone who communicates and transmits and another who receives and interprets in a subjective way.
Since we were children, we have loved stories.
To connect with the audience. The difference between brands that tell stories and those that just sell products is the connection that goes and lasts beyond the product. In the long run, they are the ones that allow for a relationship that lasts, choice and loyalty over sales.
How much more can we engage with an audience when there is one story too many?
Examples of great Storytelling
A great example of Storytelling has been achieved by the Whisky brand Johnny Walker with the campaign "Keep walking", the man who walked around the world. There are brands with history and trajectory that have been able to use resources to create stories, and this brand is a great example of this situation.
The resource found in this case turned out to be brilliant. Brand stories are told by people who walk, reminiscent of the label' s icon and its "Keep walking" slogan. In this campaign, actor Robert Carlyle – remembered for his role in the movie Trainspotting – tells the brand's Founding Story. The Glaswegian actor's strong accent adds the finishing touch of credibility.
The important thing is to achieve the connection between brand and audience by highlighting the fundamental values of the brand.
How to make a Storytelling?
Data has shown that audiences connect better when there is a story behind it because they connect with every word or image until they make it their own. Those words are memories, they are longings, they are nostalgia or joy but they produce an emotion. A sense of closeness.
And that, it connects.
The audience may forget a brand but they cannot forget how a brand has made them feel.
It has been proven that the human brain is programmed to enjoy and remember stories. But how do you tell a good story? how do you connect emotionally with an audience when telling a story?
The key is cultivating connections and empowering engagement 500% better.
Communication in conjunction with Storytelling creates connections, invokes passion and creates engagement, as in between there are emotions that effectively work with the mind to connect in a way that drives action.
Storytelling in marketing
The key lies in making the shift from selling to creating human connections and the way they matter. They create balances between credibility and loyalty to focus relationships. It works the creative side of the mind where trust and connection are cultivated, creating worthwhile conversations and relationships. They are more memorable and memorable with dynamism.
Storytelling Templates
There are many ways to achieve good stories. However, it is always best to start at the root. Dig deep into the company, getting to know it in depth. That is why we will explain the D.A.F.O. technique.
The S.W.O.T. technique is the weaknesses of the company, the threats of the environment, the strengths of the company and the opportunities that the company may have in relation to its environment. In this case the analysis of the company is achieved to know how it is positioned in terms of brand and in relation to the environment, knowing its weaknesses but turning them into opportunities.
Give it a try!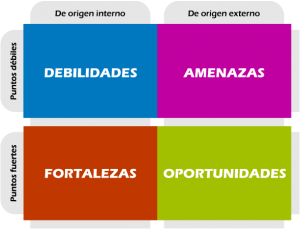 Storytelling of a product
With the evolution of the Internet, brands must reinvent themselves. Today consumers have the freedom to choose what they want to see, so that's why it is important what they are told. Today, in order to position products, it is not enough to simply sell them as they are; it is necessary to use stories and build a concept behind them that differentiates the product from others and connects with an audience to generate consumer loyalty.
Examples of product storytelling
Do you know the TOMS brand? You probably do, because they were all the rage and they are just "espadrilles". The story is as follows.
Blake Mycoskie, an American who went on vacation to Argentina, saw in the traditional espadrilles a business opportunity with social responsibility. Through its One for One philosophy it managed to differentiate and inspire. For every pair of shoes sold, TOMS donates another pair to underprivileged children in different countries.
By adapting the most modern designs and with several variations in appearance and the structure of the espadrille to a more fashion-conscious consumer, he was able to build a story that connects and gives a reason for purchase that goes beyond a purely functional benefit. He managed to build a movement and did not just stick with a product.
"The secret of a brand's success is based on the story it communicates."
It is necessary to know the company or its values in depth in order to speak from knowledge and history, reaching the differential that makes the brand unique.
On the other hand, it is essential to create an impact on the user, and the more positive the better.
Create sensations. It is useless to tell a story if it does not produce an emotion in the user, since the ultimate goal is loyalty to attract the purchase and sale over time.
Storytelling resources exist to create worthwhile stories.
Myths and Archetypes
The term "Myth" comes from Greek culture and refers to a traditional story, usually fictitious and spread by word of mouth, which tells of prodigious or extraordinary events, starring demigods, monsters, heroes or fantastic characters.
On the other hand, archetypes are universal symbols, which are part of the collective unconscious of a culture.
They start from experiences such as loss of home, initiation of the individual with maturity, love, envy, hatred, among other feelings.
In the popular narrative, we find perfectly defined archetypes, which were transmitted through stories from generation to generation and have been defined by the great Carl Jung.
How will you define your next story to sell?