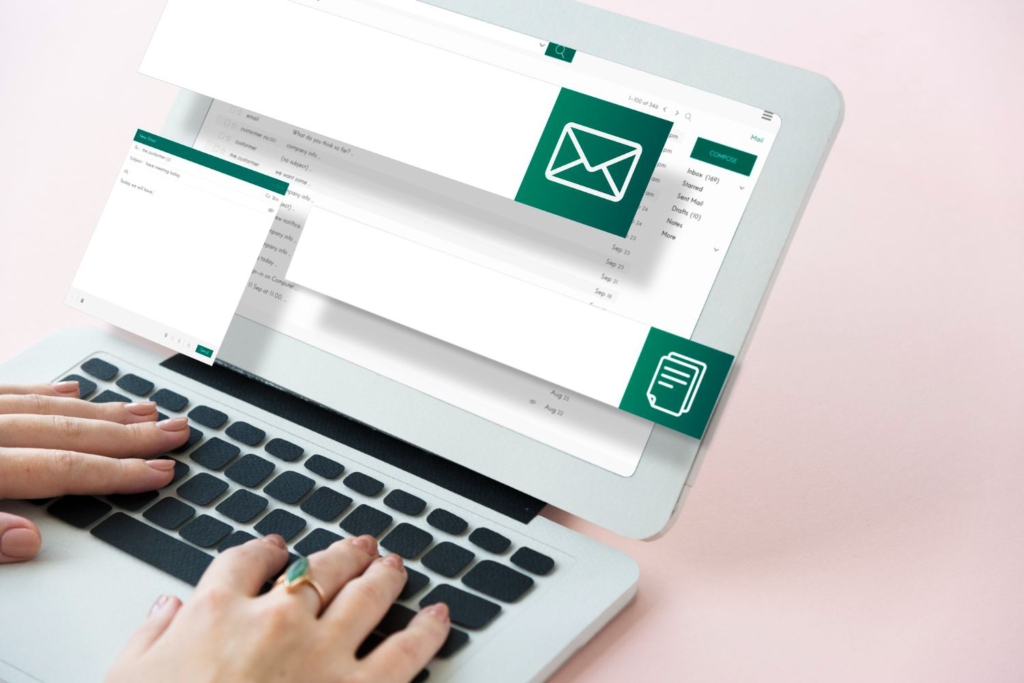 Many of our visitors often ask us what would work better for their business, a newsletter or a blog. In fact, some are not sure about the
differences between a newsletter and a blog
. Therefore, in this article, we will define each channel and talk about the differences between them. Let's start, then, by explaining
what a newsletter is and what blog posts are
.
What is a newsletter?
Email newsletters is a type of
content that is sent to a specific and segmented audience, determined by you, on a regular basis
. They contain several articles on
topics of interest to the recipients
. The purpose is to engage users, build relationships and maintain brand awareness with a particular group. In order to send your newsletters to users, which is known as
email marketing
, it is first necessary that these users subscribe to your website through the specific forms for this purpose.
What are blog posts?
Blog posts are
content that is kept on your website and available for all to see
. Each blog post covers a
topic useful in some way to site visitors
. Blog posts can educate customers and leads, keep your website dynamic and help improve your site's search engine rankings, i.e. they contribute to your website's
SEO
. Now that we are clear about what is a newsletter and what is a post, let's see the main differences between them.
Main differences between a blog and a newsletter
The blog remains on your website and anyone can view it. The newsletter is sent by email to a specific group of people who have previously subscribed.
Blog posts help you position yourself and your company as an industry expert. Newsletters allow you to follow up and target a specific group of users.
Blog posts are often used to educate potential customers about a product or service and move them through the sales funnel. Newsletters help nurture leads and existing customers, and keep business a priority.
The blog is permanent content. That is, it is content that remains active on the web until you delete it or stop paying for its hosting. Newsletters, on the other hand, are ephemeral content that disappears once they are sent.
Each blog post is considered a new web page, which increases its reach, popularity and search engine ranking (good for SEO). Newsletters are not web pages per se.
Blog posts can be shared through social media. This allows you to generate links and create visibility in search engines. Newsletters do not directly influence your organic positioning in search engines.
Blogging encourages comments and sharing, which are indicators of an engaged audience. Newsletters, don't.
Good blog posts give you great content to share on your social networks, giving you a solid foundation for your networking strategy. Newsletters are not content that is typically shared on social networks.
With newsletters you can target different segments of your database with different content. With a blog post you target everyone.
What works better, newsletters or blog posts?
A blog serves to generate traffic in the early stages of your business while newsletters will serve more to talk to those users who have already visited your website
, who know your brand and who are one step closer to purchasing your product or service. Both newsletters and blogs allow you to communicate effectively with prospects, leads and customers in a variety of ways. Therefore,
our recommendation from Maktagg is to combine both strategies
, as together they will allow you to reach many more users, both those who know you and those who do not.
A powerful blog and newsletter strategy
How to use your blogs and newsletters to drive traffic to your website, convert this traffic into leads and turn these leads into customers and brand advocates.
Write and publish a post with content of value to the user.
Create a newsletter to promote this content, in addition to other content (ebooks, news, case studies, videos, etc).
Contacts open the newsletter, visit the website and fill out your contact form to download the Ebook, news item, case study or video.
Contacts are nurtured with workflows and marketing automation.automation.
Promote your blog with your newsletters
An effective way to
approach newsletters is to design them as a compilation of recent blog posts
. Through this newsletter, the user will be able to have a preview of the content that can be accessed by visiting the website.
Good content in your newsletter
To spice up your newsletter content, include more content from the web. Share interesting posts from opinion leaders, cool tweets and other social media updates, events your readers might be interested in, even jokes, quizzes and stories (if that fits your brand). This type of content will allow you to become an expert in the field.
Titles for your newsletters and blog posts
Try to avoid the typical "August Newsletter" as the subject of your newsletter. You're not going to encourage people to open the mail! Instead, try to select something interesting within the content to use in your title.
How do you know who reads your blog?
You can't know specifically which person (with names and surnames) read your blog posts. What is possible is to
check in Google Analytics which article receives more visits
. Generally blog posts get visitors and continuous incremental traffic, driven by Google searches, social media sharing and email marketing.
Blog and newsletter suggestions
Facilitates subscription for individuals.
Give them a good reason to subscribe.
Encourage readers to share your content.
Promote your newsletters and posts.
Keep readers engaged with amazing content.
Don't know how to get started? Not sure what you should be blogging about? Then,
in our digital marketing agency we canhelp you design the best blog and newsletter strategy
to get more visibility, more traffic and more sales. Click on the button below and take advantage of the potential that these two channels have for your online business.